About Us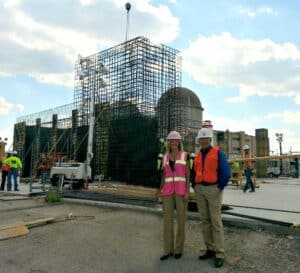 Trennon Massengale's experience reflects a proven track record of results and a reputation for effectively leading and coordinating efforts with all kept stakeholders of the building process. SWP Construction, LLC is bonded and insured.
Mission Statement | To ensure exceptional delivery of every project and commitment that is championed by our dedicated team of men and women fostering excellence while safely exceeding expectations.
Trennon Massengale

Trennon is the President/CEO of SWP Construction, LLC. While his primary focus is construction management, Trennon is also President of Sloan McLane LLC, an investment firm focusing on real estate holdings. Trennon serves as director of Project Development and Managing Partner for Triple T Renewable Energy Solutions, where his focus is construction. He has over 15 years in the electrical industry working with one of the largest electric cooperatives in the country for over 12 years. He is married to Amy and together have a son Hunter and a daughter Sloan.  

 

Larry Howell

Larry has 24 years of construction experience and he's proud to have been raised in Fort Worth, TX.  His "hands on" trade expertise in earthwork, concrete and structural steel have made him a commodity that our clients have grown to trust. While serving his 4 years of service in the  US Navy / Navy Reserve, he started his career operating a shovel and that job grew into supervision of major projects and eventually into executive project management. His strong work ethic, problem solving skills, and "fair but firm" approach leads our growing company. Striving for the best in safety and quality production, his energy and knowledge is shared on all projects as he leads SWP in our controlled growth and bright future. Larry has a zeal for construction management and through the years he has completed training in AutoCAD, BIM modeling, Project Management Professional Program and Project Management courses @ UCLA, OSHA 40 Certified and currently signed up and taking ASPE courses. When he turns off the lights here at the office he can be found in the local arena's with his family where they share the passion for rodeo and team roping! Larry is married to Kathy and together they raise 6 amazing kids; Blake, Emily, Austin, Wyatt, Kyleigh and little Brantley Trigger!

 

He has comprised a portfolio of major projects from Goliath Crane,  Mobile Bay Alabama Extension, Vandenberg Air force Base Launch Pad, California State Northridge Arts & Science Center (rebuild after the Northridge quake),  the Medici Project in downtown Los Angeles, CA, the design & build of one of the largest Nissan Dealership in North America, 2003 Rancho Santa Margarita Nissan (4 story concrete structure), Joint Base Lewis-McChord Tactical Center and Comanche Peak Nuclear Power Plant.

 

 

 

 

 

 

Candi Tebbs

Candi has a background in public relations.  She is a graduate of Texas Woman's University.  She serves as the liaison between the onsite workers, the superintendent, and the client. Her commitment is to build a repertoire with our customers and her sincere openness produces a pleasant working relationship. She understands that building your dream home or remodeling your home can be demanding and stressful. She is devoted to making your vision fun and stress free. Candi loves primitive antiques and Victorian architecture. The sunshine in her personal life is her children, Clinton and Corinne.